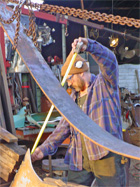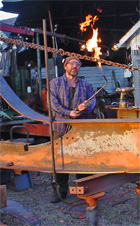 photos by
Clay Carmichael
Funny how much territory I can cover in my mind while I'm working these steel beams. On the one hand I'm working with fire and power grinders and a lot of weight, none of which are very forgiving if you let your attention wander. On the other, there's a lot of meditation time inscribing these long arcs with the torch, running the three-foot weld beads, smoothing the flame cut edges with repetitive strokes of the flap disc sander - spraying fire all the while.
These are some of the biggest pieces of steel I've worked with - nothing really in the scheme of iron working, but they make me strategize every move. Just turning them over to work the other side is a time consuming chore. They've had a long life already, maybe supporting some small bridge. There are pitted areas where the metal rested on buttresses that trapped moisture against the surface. Water, not the fastest acting solvent - but mix it with time and it will wear away anything. The flaking paint flies off readily under the wire cup brush as I burnish the surface leaving only the tightly bonded fragments of silver and orange randomly patterned on soft sheening steel. Then those remnants lift and curdle as the cutting torch blows a path through the half-inch thick metal. More brushing and the burning has added new colors and textures to what's left behind. As artist I have a vision for where this will all end, but my visual sense is already enchanted with all the abstract, chance beauty each step reveals.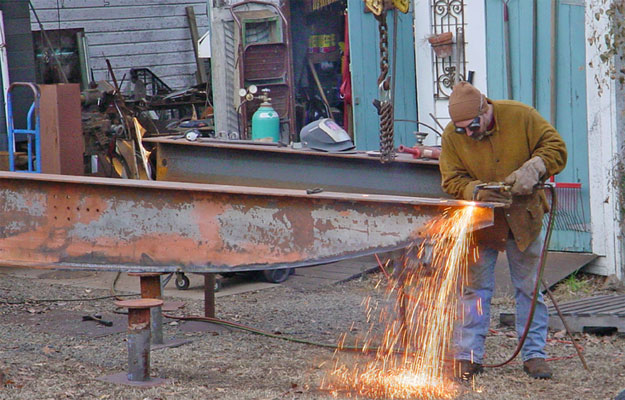 Sometimes I recognize a real sense of affection for these old hunks of scrap like they're characters who've lived storied lives now come to play their part in this new chapter I'm writing for them. I can sense some of those crusty steel men who had hands in forming these beams, shipping them, erecting them, painting them, craning them into place and then years later craning them away, a trucker finally hauling them to the scrap yard and unceremoniously dumping them in the mud at the back of the lot. I sense them shaking their head - art, eh? - both dismissive and intrigued.
So the first cuts have been made, the process begun. While I work I think about the next step. I think about steps I've taken that allow me to approach this project with confidence, and I mull over details I have yet to have wholly resolved in my thinking. I think of my hopes for a long run for this creation to inspire some good moments for people. I pay attention to the process, looking for the subtle opportunities that will present to make this piece better than what I can yet see.