There are times in the life of any artist where the inspiration is fogged, when ideas remain elusively vague and the way forward difficult to see. For me, this is not one of those times. Between some rather incredible weather that has made working outside a joy, good work in the production of several new peices, incremental progress on the Chavis sculpture, and some interesting interludes like the studio visit from the sculpture students in the Arts program at CCCC pictured above, web site updating has taken a back seat. For those of you local and interested in learning sculpting skills in welding, forging, and casting, I highly recommend the program in Siler City that I've linked to in this paragraph.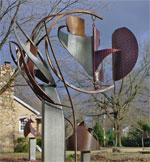 Work on the "Glimpes of the Promised Land" has centered around creating the main pivot point that will carry the kinetics to come. This is not the most visually dramatic of alterations to the sculpture, but one involving some of the most thought and care in fashioning a strong and stable axis for what will be long years of service. Several elements have been added to create strength in the bolt-up joining of the I-beams, and I've got a rather ingeneous assembly worked out for the bearing setup, if I do say so myself. Part of the trick for me was to design this in a way so I can remove the axle and mount it on a temporary base l so my work on the topper could take place at ground level where the logistics of constructing it wouldn't be complicated by altitude. You are seeing the mounting for the axle here, not the actual axle.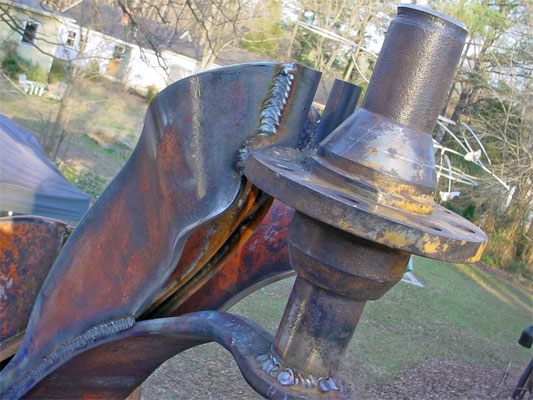 Rob's tenure as studio assistant has come to a close, and he is headed back to Bennington College. I generally don't have others working in the studio with me, but Rob plugged in well, and it was good having an extra hand around to get this big beast of a sculpture airborn. I wish him well and anticipate that friendship will continue in the years to come.
In another exit, "Leo," the sculpture created from the first drop in carving the I-beams up found a rather elegant, permanent, pond-side home. Finally for this installment I'll leave you with a picture of a very good, very large dog, one of the several new pieces from the last month's creative fires.