Mike Roig, Sculpture
New Installations / Upcoming Events / Now Showing
2021: Sculptures in Public Collections / Recent Commissions / Newly Available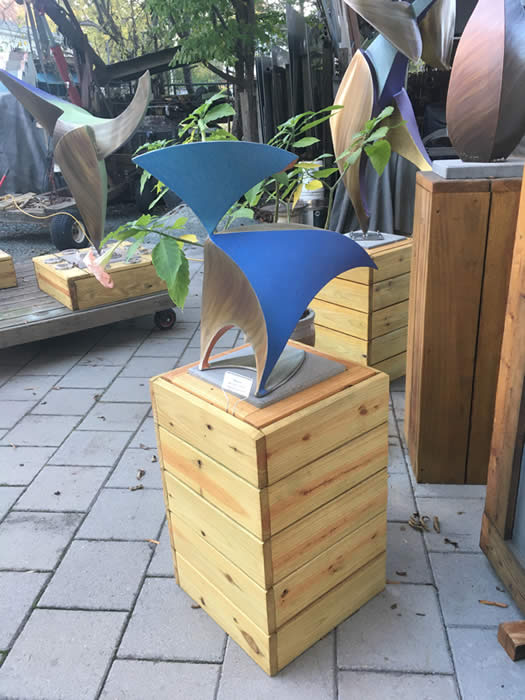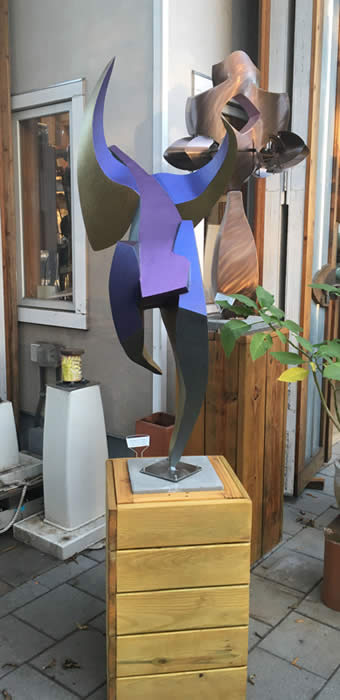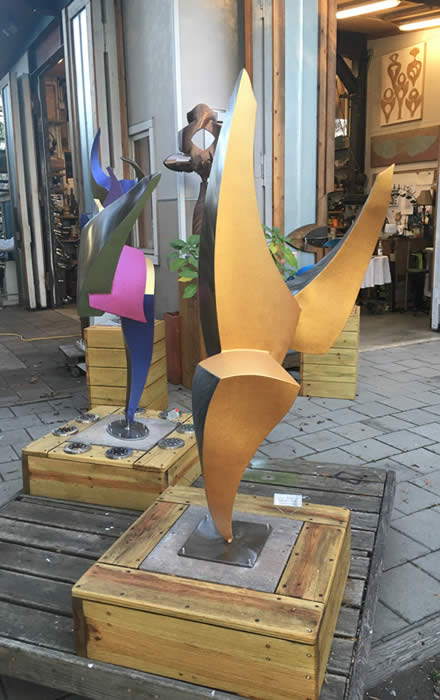 From left, Happiness, Dancing in the Dark, Light Fantastic/gold face (background, Joie de Vivre/sold)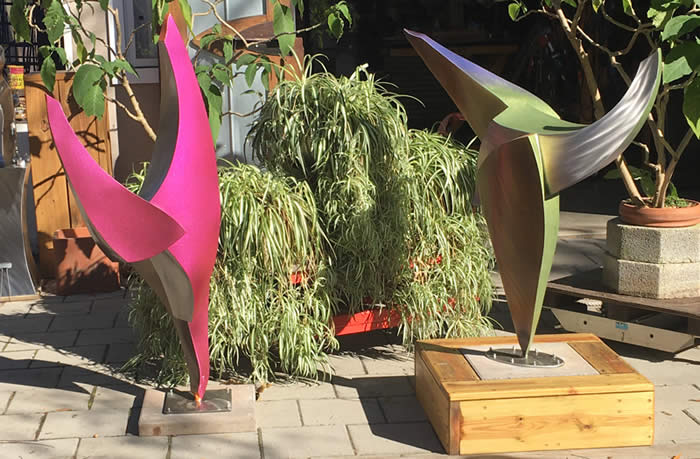 From left, Light Fantastic/fuchsia face, seen with Joie de Vivre (r, sold)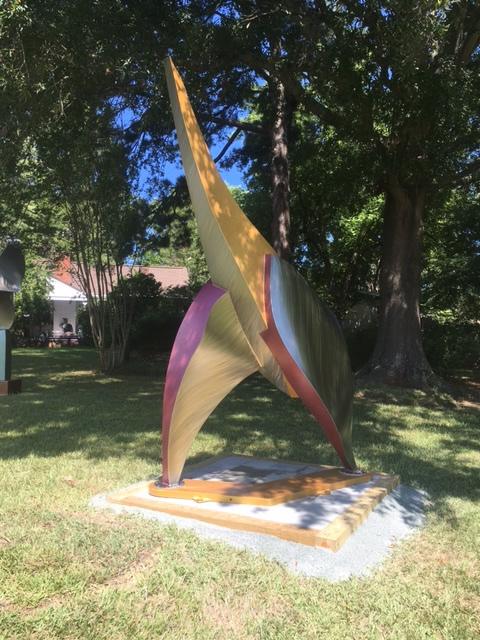 Stride
11' tall x 6'8" wide x 3' deep
Barbara's Whirled
Private Commission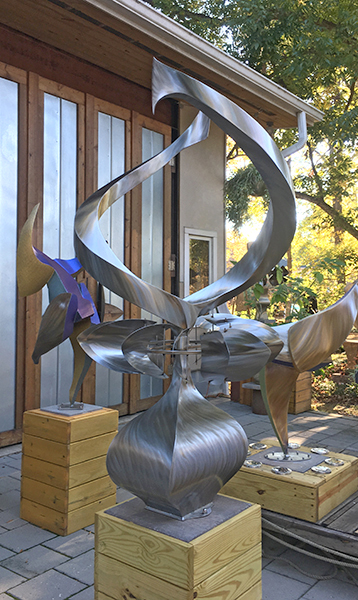 and sister-sculpture Julie's Whirled, another private commission
Evening Star
In its permanent home, Smith Crossing, Kernersville, NC
From the Aerotherapy Series: Joy, Laughter & Play
In its permanent home, Duke Regional Hospital, Durham, NC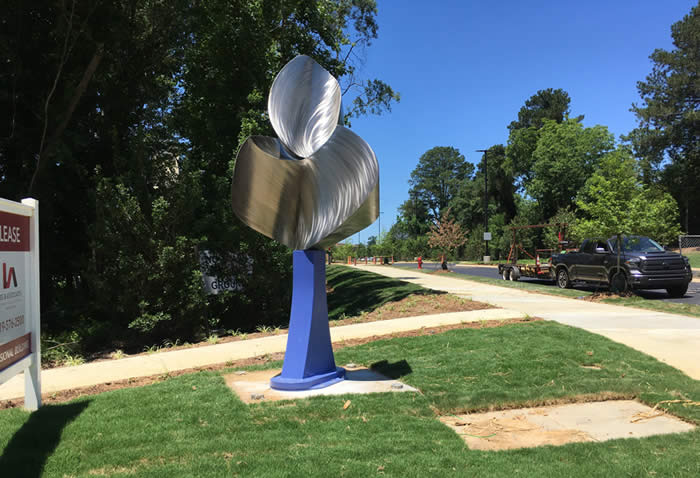 Nested
In its permanent home, Rex Hospital, Holly Springs, NC
******
2021 Art in the Garden / May 1, 2 & 8
Thanks to everyone who came out this pandemic year. We much look forward to next.
Recital, Mike Roig, 2021
Talisman, Clay's favorite.
This year's sculptures preparing to leave the studio.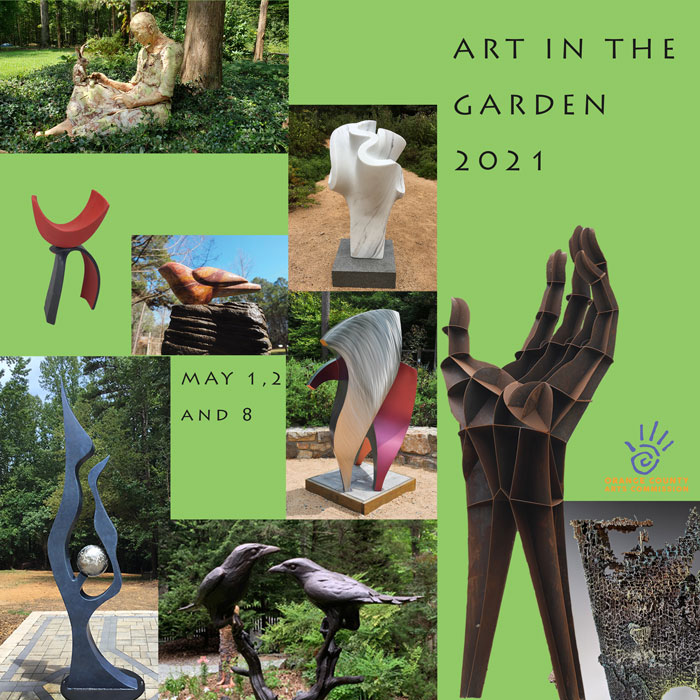 Installed May 19, 2020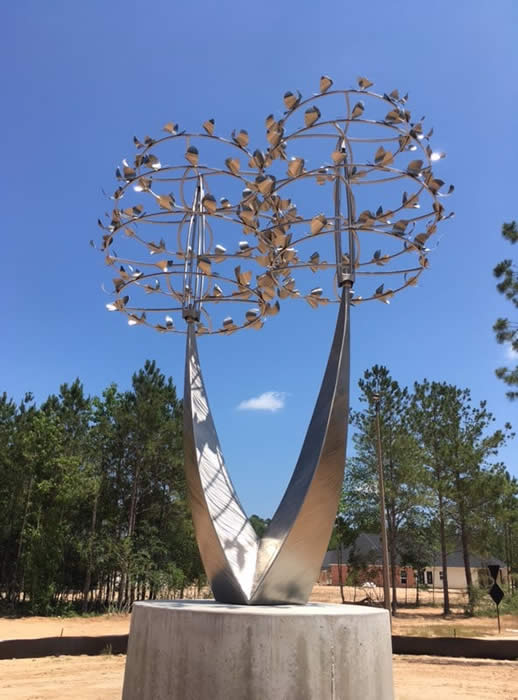 Texas Two-Step, Montgomery TX
See a time-lapse video of the installation
March 23, 2020
Well, we now officially have the dubious honor of living in interesting times. In the middle of packing the Texas
sculpture for the trip south, our country-- like the rest of the world--came to a screeching halt. The biggest regret I have about that timing
is that had I known this I'd have left Texas Two-Step assembled so we could enjoy it until whenever delivery might be rescheduled.
As it is the birds are wrapped in packing blankets and plastic, slumbering until their day to fly again arrives.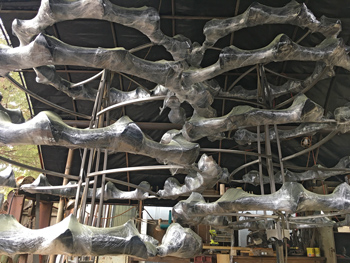 For those of you looking forward to the annual Art in the Garden Show at Tinka Jordy's Hillsborough home, be patient. We
hope to reschedule that for later in the summer/early fall when hopefully we'll be breathing easier about the dangers of world-wide
pandemics. This too shall pass.
Fortunately for this little corner of the planet, we are pretty comfortable with spending time alone with our creative muses. Clay has
been making these wonderful studies of chickadees that surprised me with their free hand spontaneity when she started making them.
I'm out in the studio every day. And here, in lieu of the normal posting of shows and up-coming events, I'll try to contribute,
in my small way, some story lines about making art that might entertain and inspire our home-bound friends.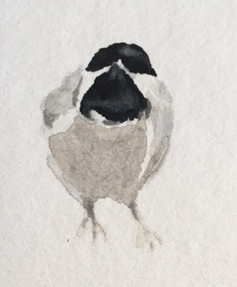 If you haven't had a chance to read about the making of Texas Two-Step, it has been the project that occupied my winter months.
I posted periodic updates about its making on this website on the Making Sculpture Page and I can say I'm really pleased with how it
turned out.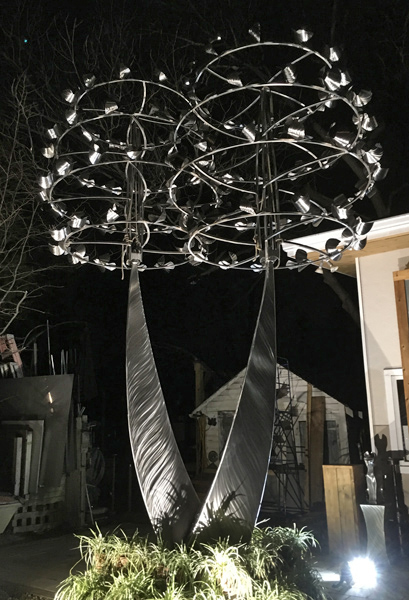 The postponing of its delivery has allowed me to catch up on some projects that have been on hold. In the fall I had been working on a
series of pieces for Studio Tour. They synthesized several ideas I'd been developing over recent months and years by incorporating color,
some solid-body fabricated elements, and the more straightforward wind paddles of some of my earliest kinetic pieces. One of them was left
undone as I turned my attention to the Texas commission, but as of yesterday no more...
While none of us would choose to have our lives up-ended by this coronavirus, for those of us who can best help by laying low and
preventing becoming part of the problem at our local hospitals, art is a great way to stay engaged with a world beyond potential illness.
That includes both making art, and enjoying and being inspired by the creativity of others. To that end I will close for now by sharing some
links to an artist who passed away recently, but whose story and work had Clay and I down the internet rabbit hole over the weekend.
Wolf Kahn's obituary in the Washington Post, for which I will include a link here, reintroduced me to an artist I hadn't thought about in
a long time. If you don't subscribe to the Post they may not allow you to read it, but just Google him. The paintings are a full of amazing
color, and his personal story touches on twentieth century history in surprising ways. And then there are the many videos of interviews
with him that give a window into an artist who just seemed a fundamentally decent and thoughtful human being, and who was incredibly
productive. Here's a link to one to get you started.
Stay healthy everyone.
- Mike
©2020 Mike Roig, All Rights Reserved